Current Adult Sabbath School Lesson: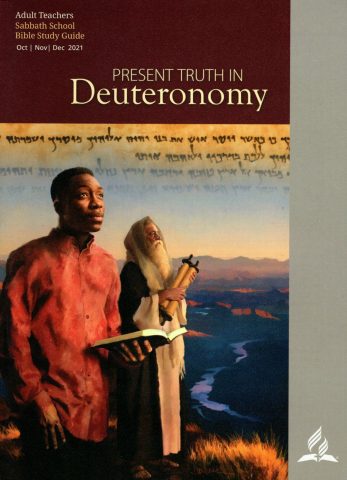 The adult Sabbath School lessons are prepared by the General Conference of Seventh-day Adventists, usually by one of the scholars or theologians of the church.  These lessons are published in the Adult Sabbath School Bible Study Guide which is published quarterly and provided free to each student.  To study on line, click the link in the previous sentence.
This quarter our Study Guide is entitled "Present Truth in Deuteronomy."  The name of the book comes from the Latin for "second law" but, rather than presenting a new law,  the book is a summary and commentary upon the law of the covenant given by the Lord.  It was written just before the Israelites crossed over Jordan into the Promised Land after wandering for 40 years in the wilderness.  Moses' message to the Israelites is: "Don't forget what the Lord has done for you, and don't forget what He asks of you now, which is to love Him with all your heart and soul and to reveal that love by obedience to all His commandments, all according to the covenant."  As spiritual Israelites, we too stand at the border of a much greater Promised Land.  Are there lessons from this book that we can apply to our situation and so bring the truth of Deuteronomy to us as "present truth" today?  
Join us this quarter as we study the inspired instruction of Moses to his people and look for ways to apply that truth to our lives today as we eagerly await the return of our Lord who will lead us into the heavenly Canaan.
Below are posted the PowerPoint presentations for lessons presented so far.  Click on the lesson and choose "Open" or "Save."  To View PowerPoint Presentations on this site without purchasing the MicroSoft PowerPoint application, you need PowerPoint Viewer.  Get it here for free.  (Search Site for PowerPoint Viewer). 
If you are a Sabbath School teacher, you may use the lessons in your own preparation and presentation.  Your comments and questions on the lessons are welcome (mcnultyk@comcast.net). 
(Note on posting: I am a hopeless procrastinator, but I will do my best to post the lesson by early Friday morning, Eastern Standard Time.  The first post is not always the final version.  Please check back for additions, corrections, and updates.  You are invited to bookmark this page to easily find it again.) 
Lesson 4 posted 22 Oct 2021 at 3:17 am.  Website problems.  Edits failed to post.  Lesson did not post until 8:54 am. Rev 1 posted 22 Oct 2021 at 9:45 pm.  Very minor edits.
Lesson 5
Lesson 6
Lesson 7
Lesson 8
Lesson 9
Lesson 10
Lesson 11
Lesson 12
Lesson 13
Lesson from last quarter on Rest in Christ
Lesson 13 posted 24 Sep 2021 at 1:07 am.  Rev 1 posted 24 Sep 2021 at 9:40 pm.  Minor corrections and revisions.