Current Adult Sabbath School Lesson: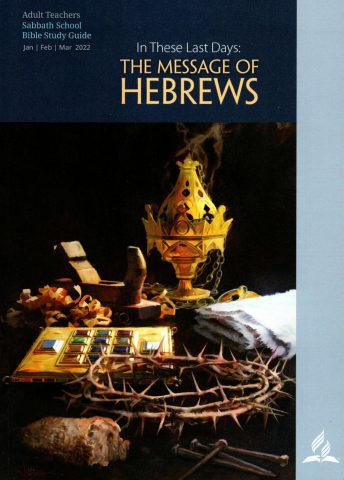 The adult Sabbath School lessons are prepared by the General Conference of Seventh-day Adventists, usually by one of the scholars or theologians of the church.  These lessons are published in the Adult Sabbath School Bible Study Guide which is published quarterly and provided free to each student.  To study online, click the link in the previous sentence.
This quarter our Study Guide is entitled "In These Last Days: The Message of Hebrews."  "In these last days" is a relative term that applies to our understanding of this book in our day today, but it also applied to the audience and author in the days when it was written to the early church.  The author of the book is much disputed among scholars, most of which are content to simply refer to him as "the author."   But regardless of his identity, he wastes no time introducing the theme and focus of his epistle.  He begins with these words in Hebrews 1:1-2 God, who at sundry times and in divers manners spake in time past unto the fathers by the prophets, hath in these last days spoken unto us by his Son, whom he hath appointed heir of all things, by whom also he made the worlds; (KJV)
The writer of this book then proceeds to paint a portrait of Jesus, the Son of God, who became our once-for-all sacrifice for sin, our High Priest in the heavenly sanctuary, the one whose blood ratified the New and Everlasting Covenant, the coming king who will lead us to the city whose builder and maker is God, and the one who will never leave nor forsake His people.  Come and study with us this quarter as we hear God speak to His people in these last days through His Son.
Below are posted the PowerPoint presentations for lessons presented so far.  Click on the lesson and choose "Open" or "Save."  To View PowerPoint Presentations on this site without purchasing the MicroSoft PowerPoint application, you need PowerPoint Viewer.  Get it here for free.  (Search Site for PowerPoint Viewer). 
If you are a Sabbath School teacher, you may use the lessons in your own preparation and presentation.  Your comments and questions on the lessons are welcome (mcnultyk@comcast.net). 
(Note on posting: I am a hopeless procrastinator, but I will do my best to post the lesson by early Friday morning, Eastern Standard Time.  The first post is not always the final version.  Please check back for additions, corrections, and updates.  You are invited to bookmark this page to easily find it again.) 
Lesson 4 posted 21 Jan 2022 at 3:09 am.  Rev 1 posted at 9:50 pm 21 Jan 2022. Minor edits.
Lesson 5
Lesson 6
Lesson 7
Lesson 8
Lesson 9
Lesson 10
Lesson 11
Lesson 12
Lesson 13
Lessons for last quarter on "Present Truth in Deuteronomy"