Current Adult Sabbath School Lesson: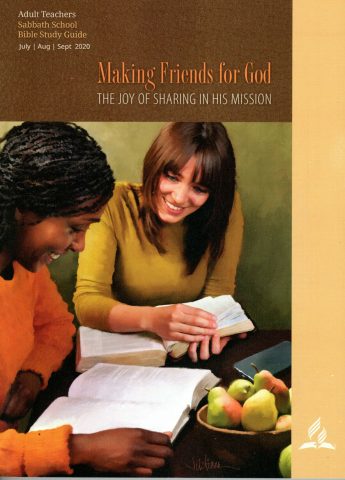 The adult Sabbath School lessons are prepared by the General Conference of Seventh-day Adventists, usually by one of the scholars or theologians of the church.  These lessons are published in the Adult Sabbath School Bible Study Guide which is published quarterly and provided free to each student.  To study on line, click the link in the previous sentence.
This quarter our Study Guide is entitled "Making Friends for God."  It was written by Mark Finley, who started out as an evangelist for the Southern New England Conference, and went on to be an international evangelist, speaker/writer for It Is Written television ministry, and vice president of the General Conference of Seventh-day Adventists.  In this series of lessons, Mark will share his insights and experience on sharing the gospel by making friends for God.    
Mark shares this insight in the introduction of the study guide: "A number of years ago, I sat in a ministerial meeting with some of my colleagues.  The discussion turned to sharing our faith, witnessing, and evangelism.  One of my friends expressed this thought, 'Mission is primarily the work of God.  He is employing all of the resources of heaven to save our planet.  Our work is to cooperate joyfully with Him in His work of saving lost people.'  It seemed as if a heavy burden was lifted off my shoulders.  It was not my job to save a lost world.  It was God's.  My responsibility was to cooperate with Him in what He was already doing."
Join us this quarter as we seek to learn new and better ways to cooperate with God in His mission "to seek and to save that which was lost."
Below are posted the PowerPoint presentations for lessons presented so far.  Click on the lesson and choose "Open" or "Save."  To View PowerPoint Presentations on this site without purchasing the MicroSoft PowerPoint application, you need PowerPoint Viewer.  Get it here for free.  (Search Site for PowerPoint Viewer). 
If you are a Sabbath School teacher, you may use the lessons in your own preparation and presentation.  Your comments and questions on the lessons are welcome (mcnultyk@comcast.net). 
(Note on posting: I am a hopeless procrastinator, but I will do my best to post the lesson by early Friday morning, Eastern Standard Time.  The first post is not always the final version.  Please check back for additions, corrections, and updates.  You are invited to bookmark this page to easily find it again.) 
Lesson 13 posted 25 Sep 2020 at 2:58 am. 
Lessons from Last Quarter on How to Interpret Scripture