Current Adult Sabbath School Lesson: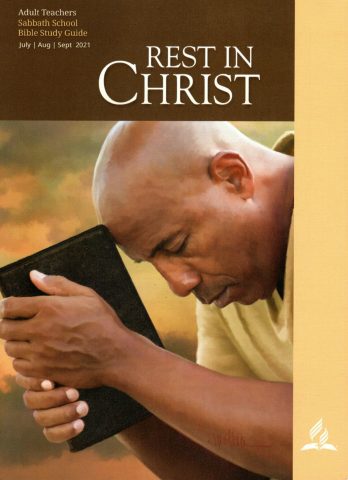 The adult Sabbath School lessons are prepared by the General Conference of Seventh-day Adventists, usually by one of the scholars or theologians of the church.  These lessons are published in the Adult Sabbath School Bible Study Guide which is published quarterly and provided free to each student.  To study on line, click the link in the previous sentence.
This quarter our Study Guide is entitled "Rest in Christ."  Rest is an essential part of life.  Life often occurs at a hectic pace that wears us out and makes us crave the regeneration and renewal that comes with rest.  While physical rest is essential to our physical wellbeing, spiritual rest is just as essential to our spiritual wellbeing.  Jesus recognized the need for rest as He invited His disciples to "Come unto me all ye that labor and are heavy laden and I will give you rest."  (Matt 11:28)  Rest in a relationship with Jesus offers us the peace that passes understanding for which our souls yearn.  Augustine's prayer is still true today, maybe now more than ever before: "Thou hast made us for Thyself, O Lord, and our heart is restless until it finds its rest in Thee."  
Join us this quarter as we study the many ways that rest is woven into the fabric of Christian theology.  Let us accept the invitation of Jesus to find rest in Him, a rest that will give us the abundant life now and eternal rest in His kingdom when He returns.
Below are posted the PowerPoint presentations for lessons presented so far.  Click on the lesson and choose "Open" or "Save."  To View PowerPoint Presentations on this site without purchasing the MicroSoft PowerPoint application, you need PowerPoint Viewer.  Get it here for free.  (Search Site for PowerPoint Viewer). 
If you are a Sabbath School teacher, you may use the lessons in your own preparation and presentation.  Your comments and questions on the lessons are welcome (mcnultyk@comcast.net). 
(Note on posting: I am a hopeless procrastinator, but I will do my best to post the lesson by early Friday morning, Eastern Standard Time.  The first post is not always the final version.  Please check back for additions, corrections, and updates.  You are invited to bookmark this page to easily find it again.) 
Lesson 12 posted 17 Sep 2021 at 1:59 am.  Rev 1 posted 17 Sep 2021 at 10:08 pm.  Minor corrections.  Deleted some repeated notes.
Lesson 13
Lessons from Last Quarter on The Promise: God's Everlasting Covenant