Current Adult Sabbath School Lesson: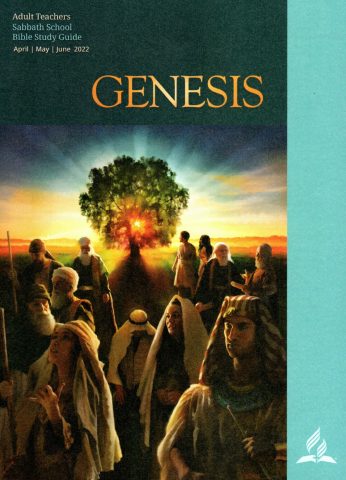 The adult Sabbath School lessons are prepared by the General Conference of Seventh-day Adventists, usually by one of the scholars or theologians of the church.  These lessons are published in the Adult Sabbath School Bible Study Guide which is published quarterly and provided free to each student.  To study online, click the link in the previous sentence.
This quarter our Study Guide is entitled "Genesis."  Genesis is a book of beginnings and foundations.  It is a book that helps us understand just who we are as human beings in a day when we are deemed as nothing but accidents that resulted from time and chance in a purely materialistic universe.  Genesis reveals that we are beings purposely and perfectly made in the image of God in a perfect world.  The fact that we, as well as this world, are no longer perfect is also explained by the fall of mankind into sin and the curse that resulted from rebellion against God.  Genesis begins our long journey from Eden lost to Eden restored.
During this quarter we will read again the stories of old that have been recorded for our admonition and look for new insights as we follow the patriarchs in their journey with the Lord.  Our lesson author writes: "As we follow these characters across the pages of Genesis, we will discover that -- regardless of how different the time, place, culture, and circumstance -- often their stories are, in many ways, ours, as well."
Come and study with us this quarter as we lay a firm foundation for our faith in this book of beginnings.
Below are posted the PowerPoint presentations for lessons presented so far.  Click on the lesson and choose "Open" or "Save."  To View PowerPoint Presentations on this site without purchasing the MicroSoft PowerPoint application, you need PowerPoint Viewer.  Get it here for free.  (Search Site for PowerPoint Viewer). 
If you are a Sabbath School teacher, you may use the lessons in your own preparation and presentation.  Your comments and questions on the lessons are welcome (mcnultyk@comcast.net). 
(Note on posting: I am a hopeless procrastinator, but I will do my best to post the lesson by early Friday morning, Eastern Standard Time.  The first post is not always the final version.  Please check back for additions, corrections, and updates.  You are invited to bookmark this page to easily find it again.) 
Lesson 7 posted 13 May 2022 at 2:52 am.   Rev 1 posted 13 May 2022 at 9:05 pm.  Minor corrections and additions.
Lesson 8
Lesson 9
Lesson 10
Lesson 11
Lesson 12
Lesson 13
Lessons from Last Quarter on "The Message of Hebrews."